Thermo treated Lumber
In 2012 DV Hardwoods expanded its offering to include Thermally Modified Wood through its affiliation with Torrexpert.
Click here for more information
The process
Modern thermo treatment is carried out by means of gradual heating of wood up to the temperatures of 160 and 246 Degrees Celsius in special heat chambers made of stainless steel, under anoxic conditions.
During thermal treatment the molecular structure of the lumber is altered and results in a durable, weather resistant and stable wood product. The changes in the wood become irreversible and afford a lifetime.
Thermo-treated wood combines such unique properties as water repellency, weather resistance and dimensional stability along with a beautiful brown hue while not hindering its natural wooden grain.
Treatment requires no additional usage of chemicals thus producing an ecologically friendly alternative to chemically treated wood.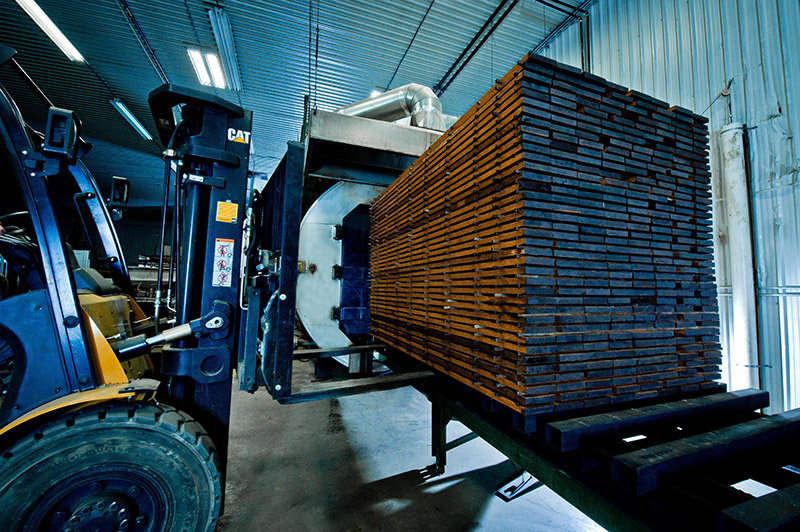 The advantages
Ecologically Friendly
No added toxic chemicals and ecologically friendly. Thermo-Wood respects the highest "GREEN" environmental standards and can be transported, handled and machined safely.
Aesthetically Pleasing
Thermo-treatment results in rich brown hues varying from amber brown to a dark brown, while highlighting its grain. End results can be comparable to coloring of exotic wood while ensuring the use of domestic North American Species.
Natural Beauty and Solution
Ecologically friendly, resistant to mold and fungus, durable and useable for exterior application makes thermo-treated wood the ideal replacement for Chemically Treated products.
Thermo Treated Lumber resistant to insect and pests
Being subjected to high temperatures during the thermo-treatment process will neutralize the wood by destroying all of the micro-organisms present and prevents the infestation by insects or other pests.
A dimensionally stable product
The thermo treatment process strengthens the molecular structure of the wood which gives it greater dimensional stability. Thermo wood develops a greater resistance to warping, swelling or shrinking regardless of variations in temperature and humidity.